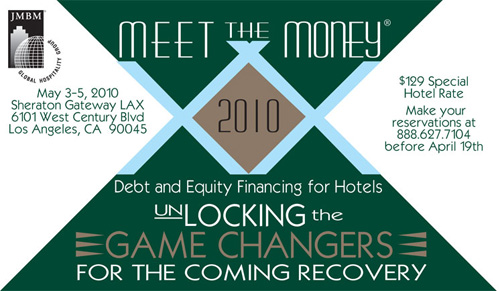 Encouraging signs of a thaw in the worst recession in decades are the rationale behind this year's optimistic theme, "Unlocking the Game-changers for the Coming Recovery," for the 2010 Meet the Money® conference. This year's event, which marks its 20th consecutive year, will be held May 3-5, 2010, at the Sheraton Gateway Los Angeles Hotel near LAX in California.
Who will be attending?
"We expect attendees at this year's conference to fall into two distinct categories," said conference founder Jim Butler, author of www.HotelLawBlog.com and chairman of the Global Hospitality Group® of Jeffer, Mangels, Butler & Marmaro LLP. "There will be investors with cash who are gearing up for an active acquisition run over the next several years. We expect to see a large number of opportunity funds, especially as the bid-ask spread is narrowing.
"On the sell side will be troubled hotel owners who are seeking ways to work through these unprecedented economic times," he noted. "Rounding out the group will be representatives from dozens of banks, institutional lenders and private investors who will update attendees on the availability of capital. Industry experts suggest that it will take at least three to five years to resolve the significant number of hotel work-outs in process and the tsunami of CMBS loans coming due. This will be a period of both tremendous opportunities and a tremendous amount of pain."
Join the Industry Leaders
Meet the Money® will feature some 100 industry leader speakers, in more than 25 sessions. Major emphasis will be placed on CMBS loans, receivership, financing and investment strategies, revenue management, repositioning, public-private partnerships, timeshare and asset management.
Keynote Lunch Speaker – Meagan Johnson
Meagan Johnson will present "Zap the Gap! – How to find balance, productivity, and your sanity while working with multiple generations" (and it isn't bad for your bottom line either). She has been described as "bright, funny, a delightfully obnoxious generational humorist". Zap the Gap was recently featured in Hotel Online.
Since 1997 Meagan Johnson has entertained and educated thousands of audience members from all over the globe. She has written a variety of articles about the multiple generations and has been interviewed for many publications and audio programs. She wrote the Generational chapter in the book Success is A Team effort.
Accommodations
Sheraton Gateway Los Angeles Hotel
6101 West Century Boulevard
Los Angeles, CA 90045
(888) 627-7104 or (310) 642-1111
Room Rate: $129/per night, mention Meet the Money. Room block expires on April 26, 2010!
Book your hotel online here .
Conference registration is $950.
Online registration has closed.
There is still space available. Please register at the door.
For a current list of sponsors, click here.
For a current list of speakers, click here.
To view the current program schedule, click here.
…
Cancellation policy: Should you be unable to attend Meet the Money® 2010, a prompt refund less an administrative fee of $200 will be made for cancellations received in writing before April 1, 2010. No refunds will be made thereafter. Credit may be applied to the 2011 conference, which credit will expire on May 31, 2011. Substitutions may be made up to 72 hours in advance of the conference. The program and individual speakers are subject to change without notice.